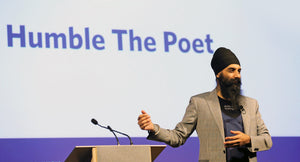 Humble the Poet is a multi-talented creative, investor, artist, and bestselling author, who's aura embodies motivational pragmatism while encouraging a lot of space for self love and grace. 
His talks inspire people to take control of their future and create a new normal, rather than simply surviving difficult times. Humble encourages his audiences to recognize discomfort and uncertainty as opportunities for growth and resilience in both their personal and professional lives.Humble's work with organizations aim to create a clear and exciting culture that brings out the best in all team members working towards a common mission.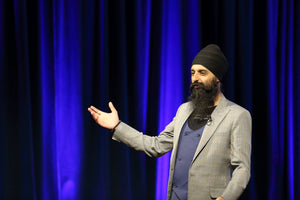 HUMBLE THE POET, AKA KANWER SINGH, is a Canadian-born rapper, spoken-word artist, poet, international bestselling author, and former elementary school teacher. His first book, Unlearn, is a Globe & Mail bestseller in Canada. He has performed at concerts and festivals including Lollapalooza and been featured in major media including Buzzfeed and Huffington Post.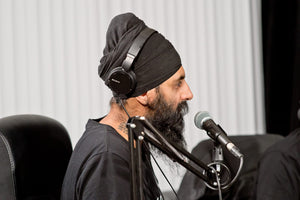 In a time of historic uncertainty, it's not easy to be enthusiastic about looking forward to the future. Many of us feel like we're doing so much just to keep our lips above the water, and feel powerless with what's happening around us. In Humble The Poet's talks, he shows that we don't have to wait around, and we can do more than simply survive. The new normal isn't something we have to accept, it's something we have the power to create. Reminding us that our purpose and passions come from the problems we're excited to tackle.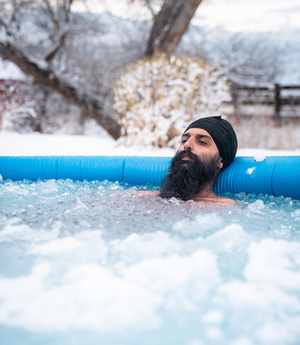 Humble's talks aren't designed simply to get through the most challenging times, they serve as a catalyst for us to dive into more discomfort and uncertainty; because that's where all the growth the resilience lie. Through important questions and changes in perspective, Humble works to inspire and interact with audiences to change from surviving in hard times to thriving.
I am completely inspired by Humble's wisdom and knowledge. His outlook on life based off of his experiences really made me take a step back and evaluate where I was personally.
Just like his name, he's a very humble guy and shares great advice and words of wisdom. He's open to talking about his life experiences and is always speaking from the heart. You can tell that he is a real genuine human being. I could listen to the guy forever.
He brought a unique perspective and as he spoke, I could feel the love he has for others. He is definitely an influence to those he comes in contact with and he's not afraid to share his mistakes with others in hopes that they can take and learn from those as well.
University of British Columbia
Humble is such a humble soul who has a true passion for the art of communication. The way he presents himself is so acceptable for any situation and gives you the sense of comfort that "everything is going to be okay". I promise you will not regret hearing him speak.
I was super inspired to change and improve myself. 
University of Toronto
CREATIVE SPEECH WRITING/EVENT CONTENT
For your next event, we provide content services to add a stronger emotional experience for your attendees. We are able to take your core messaging and priorities, and present them in a manner that is engaging, energizing, and sets the right tone for your event, whether in person or virtual.
Here are some example of something we've created in the past:
Introducing Andy Rallis and the Society of Actuaries
Organizations we've worked with: